What is a bacon bap
Simply put, a bap refers to a soft white bread roll - similar to a burger bun - but softer with a floury top.
Its a British term, referring to a breakfast sandwich with fillings like bacon, sausage and egg - topped with tomato ketchup or brown sauce - with a spread of butter.
You could also use the terms: sausage bap, egg bap - but other ingredients with the term bap after it is not uncommon.
This British term is not exclusive to explaining bacon rolls, in fact, the British would say bacon rolls just as much as the rest of the world would say.
How to make a bacon bap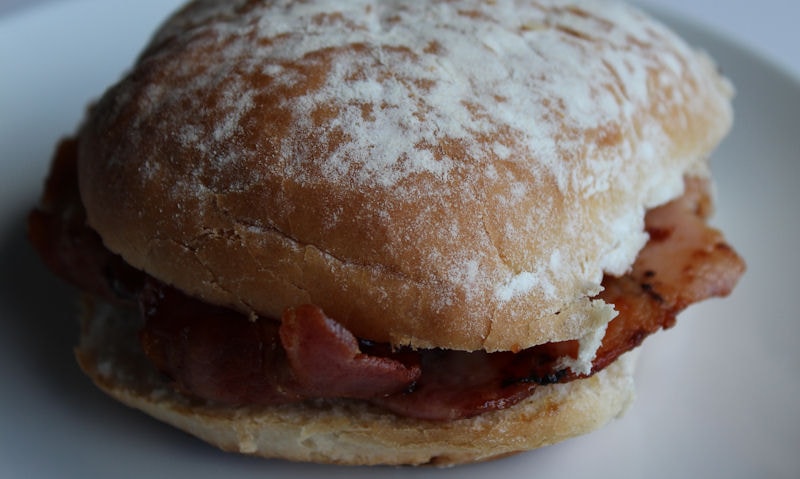 To make a bacon bap, you'd need to follow the same rules when making a bacon sandwich. But to make a traditional British bacon bap, you'll cook up to four rashers of unsmoked British back bacon in a grill pan, allowing the bacon to cook in their own fat.
To make sure they are cooked evenly, press down on the bacon using the backside of a plastic spatula, cooking for up to three minutes on each side.
You'll looking to create a light and crispy texture, not to be confused with hard and crunchy.
Then cut open a floury bap and if you like spread with soft butter, then top it with plenty of ketchup. Finally pop in the four bacon rashers and enjoy well its still hot as the bacon fat runs into the bread.
Ingredients used to make a bap
You just need to follow any recipe on how to make a bread roll.
But when its homemade it will create a crusty top, so you should cover the baking tin with a wet cloth to trap the heat so it softens the bread as it cools down.
You can add a sprinkle of floury just before you pop it in the oven, but a lighter sprinkle of extra floury can by added after its cooked.
Share this article: