All Day English Breakfast Sandwich Recipe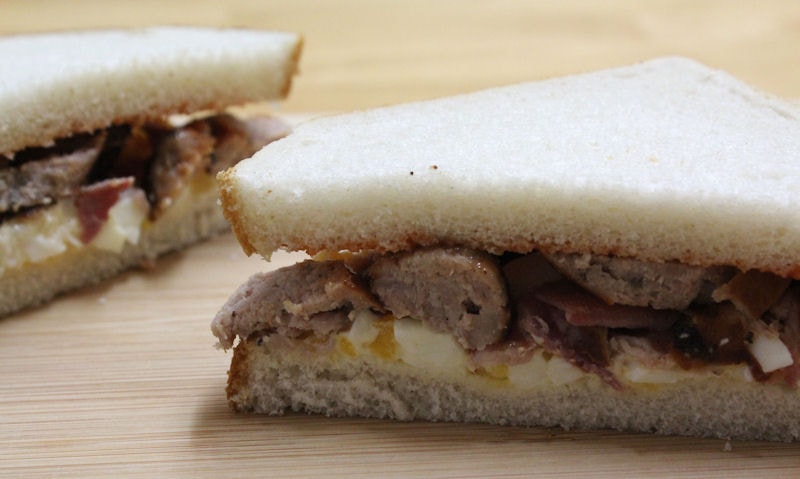 All Day English Breakfast Sandwich Recipe
An all day breakfast sandwich made with ingredients commonly associated with breakfast - egg, sausage and bacon - but made into a cold sandwich.
An all day breakfast consisting of three cooked and cooled ingredients, combined to make a cold sandwich.
To make this sandwich, you'll first need to cook a bacon rasher, a pork sausage and boil an egg.
All ingredients are allowed to cool before making an egg mayonnaise for the base, well using a spread of tomato ketchup on the top side of white farmhouse bread.
PREP:
10 MIN.
COOKING TIME:
25 MIN.
SERVINGS:
1
INGREDIENTS
2 Medium cut soft white farmhouse bread slices
1 tbsp. Hellmann's real mayonnaise
1 tbsp. Heinz tomato ketchup
1 Hard boiled egg, chopped
1 Unsmoked back bacon rasher, sliced
1 Pork sausage, sliced
INSTRUCTIONS
1
In a dry frying pan on a low heat, add 1 bacon rasher and 1 pork sausage, cook bacon for 5 minutes turning occasional, well the sausage will need 20-25 minutes
2
At the same time as the meat is cooking, pop a large free range egg into a saucepan of boiling water and cook for up to 15 minutes - allow to cool in cold water
3
On a dinner plate, chop up boiled egg using a butter knife, add a pinch of salt and pepper and scoop on a tablespoon of mayonnaise - mixing thoroughly
4
On another plate, cut up your bacon rasher into small pieces, and slice pork sausage
5
Position 2 slices of medium cut soft white farmhouse bread on the chopping board and pile on your egg mayo on one slice of bread
6
On the second slice of bread dollop 1 tablespoon of tomato ketchup spreading the sauce to the corners and edges
7
On top of the egg mayo, position your bacon pieces and pork sausage slices - then close sandwich
8
Allow sandwich to chill for up to an hour in fridge and serve
NUTRITIONAL DETAILS:
Calories: 592.5
Fat: 34.95g
Salt: 3.48g
Carbs: 44.15g
Protein: 30g
Fibre: 2.05g
Energy: 2477.5kJ
TIPS & ADVICE
Once the tomato ketchup is allowed time to combine with the rest of the ingredients, it won't taste like ketchup any more but will provide a much needed tangy kick to this breakfast sandwich.
SHARE THIS RECIPE: