Bacon & Cheese Omelet Croissant Recipe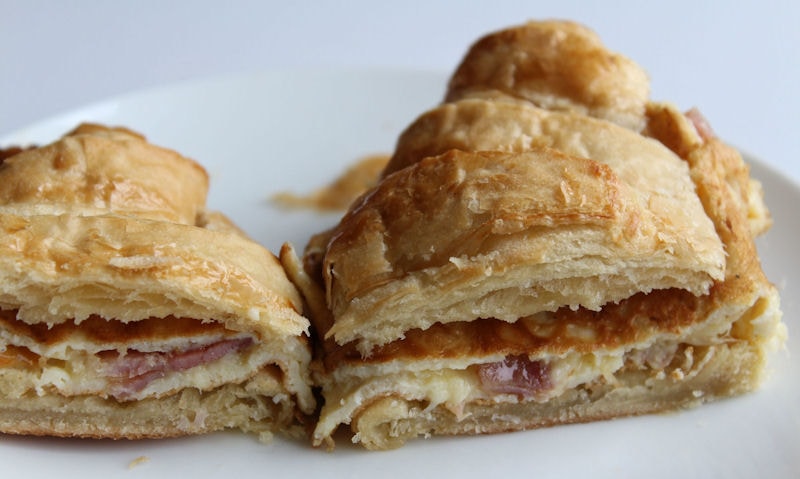 Bacon & Cheese Omelet Croissant Recipe
All you need to kick start the day, a fried two egg omelette with crispy bacon and a strong, mature Cheddar oozing from the warm croissant.
All you need to do is fry 2 bacon rashers, cooked in their own fat, before adding 1 tablespoon of cooking oil and pouring the batter and allowing it to firm up for a minute.
Then on one side add bacon, grated cheese and fold half over.
Allow it sit for 2 minutes in your croissant and your bacon and cheese omelette is ready to eat.
PREP:
5 MIN.
COOKING TIME:
8 MIN.
SERVINGS:
1
INGREDIENTS
1 all butter croissant, from bakery
2 free range eggs
2 rashers unsmoked back bacon
2 tbsp. extra strong, grated mature Cheddar cheese, 80g
1 tbsp. cooking oil
INSTRUCTIONS
1
Pan fry 2 rashers of unsmoked bacon in their own fat until crispy - cut up into pieces with scissors, then set aside
2
Grate about 80g of a strong mature Cheddar cheese - 2 tablespoons - and set aside again
3
Break 2 eggs into a jug, add a pinch of salt a pepper and mix thoroughly
4
Using the same frying pan you used to cooked the bacon in, add 1 tablespoon of cooking oil, heat up the pan again and pour in your omelette batter
5
At this time, place your croissant onto a baking tray and put in a preheated oven at Gas Mark 4, for 5 minutes
6
Allow the omelette to sit in the frying pan for 30 seconds, create gaps with a spatula to allow the topside batter to escape to the hot pan at the bottom
7
The omelette will start to form a lovely golden base within about 3-4 minutes and its time to throw on your bacon pieces and sprinkle on your grated cheese on the one half
8
Then fold over the over the other half and allow to cook for an extra minute - enough time for the cheese to melt
9
Take your croissant out of the oven, pop on a plate and cut through the side to create a top and bottom piece
10
Remove your omelette carefully with the spatula and place directly on your bottom croissant piece
11
Finally, allow the croissant to stand for up to 2 minutes for the heat to soak through the warm croissant
NUTRITIONAL DETAILS:
Calories: 1313
Fat: 92.8g
Salt: 5.8g
Sodium: 0.4mg
Carbs: 60.7g
Protein: 65.4g
Fibre: 3.6g
Energy: 5441kJ
SHARE THIS RECIPE: