Egg & Cress Sandwich Recipe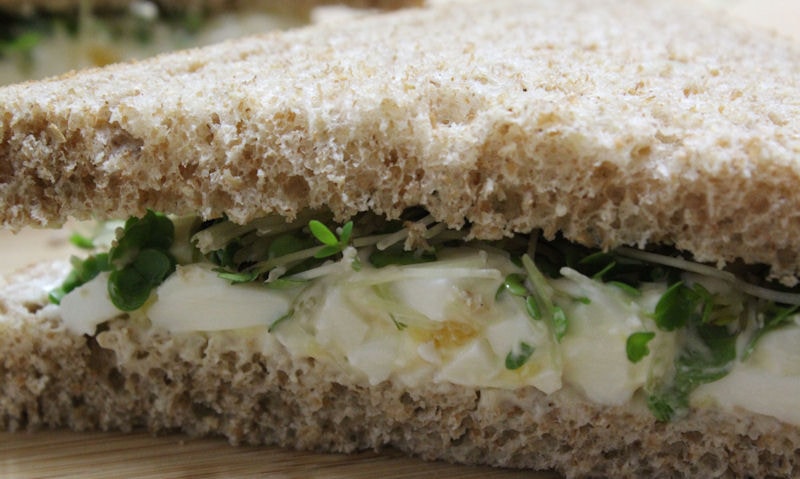 Egg & Cress Sandwich Recipe
Our egg and cress sandwich recipe is packed with goodness in a creamy egg mayonnaise on a thick cut wholemeal bread.
This recipe is as simple as its gets with only three main ingredients needed.
The egg and cress sandwich is only needed with mayonnaise and your sandwich is complete.
The trick to a good egg and salad cress sandwich is the consistency of the egg mayo. To much mayonnaise and it will overwhelm the full flavor of the sandwich.
Learn more in detail on how to make egg mayonnaise from my 'how to make' section of our web site.
PREP:
5 MIN.
COOKING TIME:
4 MIN, 30 SEC.
SERVINGS:
1
INGREDIENTS
4 slices of thick cut wholemeal bread
3 hard boiled eggs
3 tablespoon real mayonnaise
3 tablespoons of salad cress
INSTRUCTIONS
1
Before you begin, place 3 eggs into a small saucepan and boil your kettle
2
Then add the water into the pan slightly covering your eggs. Allow the water to come to a boil and time it for 13 minutes. This should be a maximum time allowed to boil eggs. To much longer and they will dry out. You can time the eggs for 11 minutes as soon as the water comes to a boil for lightly boiled eggs.
3
Once boiled empty hot water in to sink and refill the saucepan of cold water to prevent the eggs cooking farther
4
Carefully peal the egg shell off the egg insuring you remove it all. Run eggs under cold water if your not to sure but remember to tap eggs dry
5
Place the hard boiled eggs in a mixing bowl (or a cereal bowl if you like) and chop them all into fine chunks
6
Add 3 large tablespoons of mayonnaise into the bowl and mix until the egg whites and yolk are covered in mayonnaise completely
7
Lay 2 pieces of slice wholemeal bread down on the chopping board. Half the egg mayonnaise mixture and spread on each piece of bread. Ensure you cover the edges and corners of the bread carefully to ensure there are no dry areas
8
Split the salad cress in half and sprinkle the cress over the egg mayonnaise mixture
9
Close both sandwiches with the second piece of bread and cover in saran wrap. Allow the sandwich to chill in the fridge for 30-40 minutes and its ready to eat
TIPS & ADVICE
Make this egg and cress sandwich healthier by splitting the mayonnaise with a natural (no flavor) yogurt to reduce the calorie and fat content in the mayo.
SERVING SUGGESTIONS
Use your egg mayonnaise spread as a topping in a cooked baked or jacket potato.
SHARE THIS RECIPE: