Unsmoked Back Bacon Croissant Recipe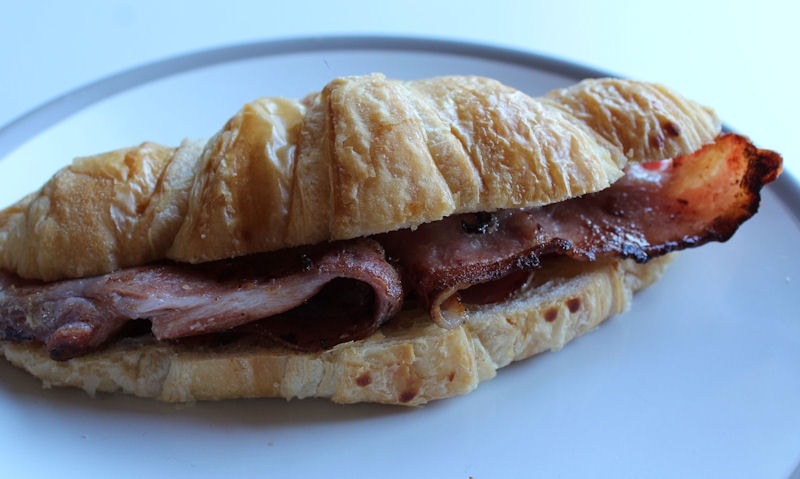 Unsmoked Back Bacon Croissant Recipe
Make yourself a quick and easy croissant breakfast sandwich with 2 rashers of unsmoked back bacon and a warm croissant, with a spread of butter and a dollop of ketchup.
Wake up to an exciting small breakfast with this bacon croissant, filled with two rashers of bacon, pan fried in their own fat, so no added oil is needed.
It will be cooked within 4 minutes resulting in a light and crispy bacon rasher.
PREP:
4 MIN.
COOKING TIME:
5 MIN.
SERVINGS:
1
INGREDIENTS
1 all butter croissant, from the bakery
2 rashers unsmoked back bacon, Danish
1 tbsp. tomato ketchup
Butter, optional
INSTRUCTIONS
1
Begin by pre-heating the oven to a low heat and wrap your croissant in foil - to prevent croissant from burning
2
Now, heat up your frying pan - with no oil - under a medium heat
3
Fry the 2 bacon rashers for 2 minutes on each side, use the back of a spatula to press down the rashers on the surface of the pan for even cooking
4
After 4 minutes, take your croissant out of the oven and slice in half to make two sandwich halves
5
At this point, add a spread of butter (optional) so it melts through into the croissant, and then add a tablespoon of tomato ketchup
6
Eat right away well the croissant is still warm and the bacon is still hot
NUTRITIONAL DETAILS:
Calories: 396
Fat: 23.7g
Salt: 2.3g
Carbs: 33g
Protein: 1.5g
Fibre: 75.7g
Energy: 1651kJ
SHARE THIS RECIPE: