Chicken & Bacon Salad Sandwich Recipe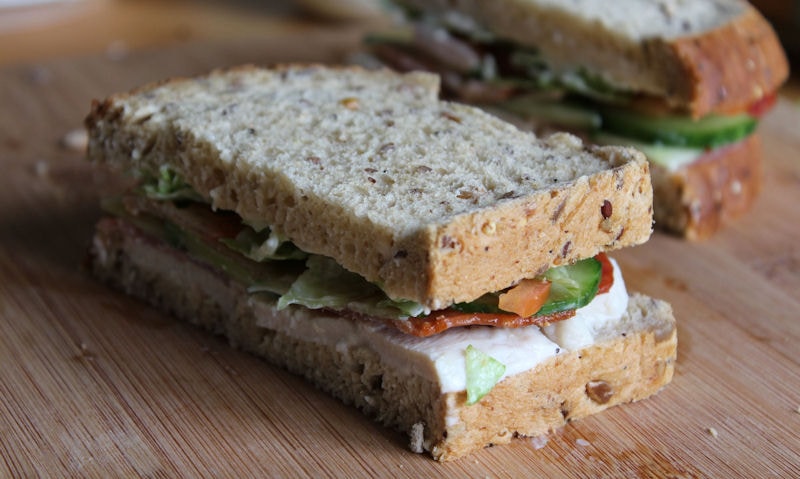 Chicken & Bacon Salad Sandwich Recipe
Rather one or the other, have the best of both worlds with a chicken bacon sandwich with salad in a thick slice seeded granary bread.
Its crossed between a chicken salad and a BLT sandwich, but this chicken and bacon sandwich is the perfect compromise.
Take 3 rashers of unsmoked back bacon with 'ready to eat' cooked roast chicken and layer it up with plenty of fresh salad and a big dollop of mayonnaise - as usual.
PREP:
5 MIN.
COOKING TIME:
5 MIN.
SERVINGS:
1
INGREDIENTS
2 sliced Hovis Seed Sensations Soft Granary Batch
65g sliced roast chicken breast
3 sliced unsmoked Danish back bacon
1 tbsp. Hellmann's Real Mayonnaise, big scoop
Iceberg lettuce, approximately 52g
4 slices salad tomato
5 slices cucumber
INSTRUCTIONS
1
Heat up a frying pan with no oil and cook 3 rashers of unsmoked back bacon until crispy - then set aside on kitchen paper when cooked
2
Take 2 slices of thick cut sliced Hovis seeded bread and lay side by side
3
Dollop one big tablespoon of Hellmann's mayonnaise on one slice only
4
Then take half a pack, or about 65g sliced roast chicken breast and layer over mayo
5
Once your bacon's cooled completely, layer the rashers evenly over the chicken
6
To lay the salad, start with 4 slices of salad tomato
7
Then 5 slices cucumber doing well to even them out
8
Then top it all off with Iceberg lettuce, about one or two big leaves worth
9
Close up the sandwich, then refrigerate, and it will be ready to serve in about an hour
NUTRITIONAL DETAILS:
Calories: 613
Fat: 30.1g
Salt: 6g
Carbs: 40g
Protein: 55g
Fibre: 7.8g
Energy: 2560kJ
SHARE THIS RECIPE: